Avon Lake Family Dental Care
Posts for tag: oral hygiene
By Walker Rd Avon Lake, OH
January 10, 2021

If we were playing word association with the term "oral hygiene," you'd probably answer "brushing." And you would be right—brushing cleans tooth surfaces of accumulated bacterial plaque, a thin biofilm most responsible for dental disease.
But brushing is only half of the oral hygiene equation: You also need to remove dental plaque between teeth where brushing can't reach. And, that requires that other practice—flossing.
Unfortunately, brushing is more popular than its hygienic sibling because many people find traditional thread flossing more difficult and messier than brushing. That can make it tempting to skip flossing—but then you're only getting half the benefit of oral hygiene for reducing the risk of tooth decay or gum disease.
There is, however, a way to floss that doesn't involve a roll of thread: oral irrigation. This form of flossing uses a countertop device that directs a pressurized spray of water between teeth through a handheld wand. The directed spray loosens and then flushes away accumulated plaque.
Oral irrigators (also known as water flossers) have been an important tool for decades in dental offices, and have been available for home use since the 1960s. In the last few years, though, the devices have become more compact and easier to use. More importantly, studies have shown they're as effective in removing between-teeth plaque as regular flossing.
These irrigation devices are especially useful for people wearing braces. The attached brackets and wires make it extremely difficult to maneuver flossing thread between teeth. Because of this (as well as similar difficulties in brushing), patients are more susceptible to dental disease while undergoing orthodontic treatment.
But a 2008 study showed that oral irrigators are quite effective for braces wearers in removing between-teeth plaque. It found those who used an irrigator after brushing removed five times the amount of plaque than those that only brushed.
Even if you're not wearing braces, you may still find an oral irrigator to be a useful flossing alternative. Speak with your dentist for recommendations on what to look for in an oral irrigator and tips on how to use it. It could make a positive difference in your dental health.
If you would like more information on how best to keep your teeth and gums clean, please contact us or schedule an appointment for a consultation. You can also learn more about this topic by reading the Dear Doctor magazine article "Cleaning Between Your Teeth."
By Walker Rd Avon Lake, OH
September 22, 2020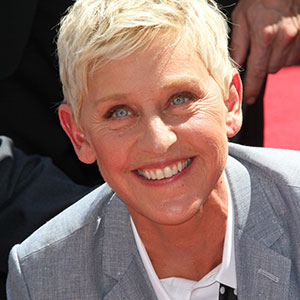 This year's Carol Burnett Award, presented at the Golden Globes, goes to Ellen DeGeneres for her "outstanding contributions to the television medium on or off the screen." This is the latest in a long list of honors for the comedienne, talk show host and activist that includes Emmys, Grammys and Teen Choice Awards. And one not quite as well-known: a 2004 "Flossy" award.
DeGeneres received this honor from the National Flossing Council in recognition of her passionate promotion of oral hygiene, particularly flossing. She wrote about its virtues in her 2003 book, The Funny Thing Is…., saying, among other things, "Don't even think for a second that you can get away with not flossing."
DeGeneres's motivational cheerleading for flossing is helpful and necessary because, well, many of us just don't like doing it. It requires more manual dexterity than its more popular sibling, brushing. And the tendency for the floss to gunk up with plaque residue for some is simply unpleasant.
Mainly, though, many folks think brushing is enough. Not so fast, according to dental professionals. While brushing removes disease-causing bacterial plaque from broad tooth surfaces, it can't effectively get into the spaces between teeth. It takes flossing to clear plaque from these more difficult areas.
But don't fret: There are ways to make flossing an easier—and more pleasant—task.
Ask us for help. As we said before, flossing does take some hand dexterity and coordination to perform. You may also wonder if you're doing it effectively. We can provide training and tips on how to be a more effective flosser at your next visit.
Practice, practice, practice. You probably think nothing of riding a bicycle, and yet it probably took you weeks or months as a kid to become proficient. Similarly, your first attempts at flossing might feel awkward, but you'll improve with practice, so don't give up.
Brush before you floss. Most people floss before brushing, but if you tend to encounter a lot of soft plaque debris that makes flossing "icky" for you, then try brushing first to clear a good portion of it out of the way before you floss. Just be aware, most professionals believe that flossing first is better because it loosens up debris between teeth so the bubbles from the toothpaste can carry it away. But any flossing is better than no flossing!
Try flossing tools. For some people, floss picks, small pre-threaded tools you can use with one hand, seem easier to maneuver than regular floss thread. If you have issues with manual dexterity, an oral irrigator can make the task easier: This handheld device uses a stream of pressurized water to loosen and flush away plaque between teeth.
So, follow Ellen DeGeneres's advice she gave Tulane University graduates during a commencement speech: "Remember to exfoliate, moisturize, exercise…and floss." The latter, along with brushing, will certainly help keep your teeth and gums healthy.
If you would like more information about best oral hygiene practices, please contact us or schedule an appointment. To learn more, read the Dear Doctor magazine article "Daily Oral Hygiene."
By Walker Rd Avon Lake, OH
September 12, 2020
Keeping your teeth and gums healthy doesn't require an elaborate plan. It's simple: Besides twice-a-year dental visits, the most important thing you can do is brush and floss every day to remove accumulated dental plaque.
The bacteria that live and breed in this thin biofilm is the main catalyst for both tooth decay and gum disease, the top two diseases that endanger teeth. Brushing and flossing removes this buildup and thus reduces the long-term risk for either disease.
Unfortunately, the message on these important hygiene tasks hasn't resonated with "Millennials," the first generation to reach adulthood in the 21st Century and new millennium. One recent survey of 2,000 members of this age group found only about 30% brushed their teeth at least once a day, with many skipping the task for two days at a time.
If brushing has taken a beating among millennials, you can well imagine the state of flossing. Unfortunately, the news media has helped this along: Just a few years ago, the Associated Press reported a study that concluded flossing's role as a dental disease deterrent hadn't been proven. A follow-up study a year or two later by the University of North Carolina pushed back on the original AP story with findings of lower risk of tooth loss among flossers than non-flossers.
This decline in oral hygiene practices among millennials has had an unsurprisingly negative effect. Recent statistics indicate that one in three people between the ages of 18 and 34 have some form of untreated tooth decay. As this generation ages this may inevitably result in more extensive dental treatment and higher rates of tooth loss unless the trend toward hit and miss dental care makes a complete U-turn.
The good news is that it may not be too late for many of those slacking on daily care. All that's needed is to heed the same dental advice their grandparents and parents were given: Brush twice and floss once every day.
No matter what your age, consistent daily brushing and flossing still remains essential to keeping potential dental disease at bay. These twin hygiene tasks remain the solution to good dental health throughout your life.
If you would like more information on best oral hygiene practices, please contact us or schedule an appointment for a consultation.